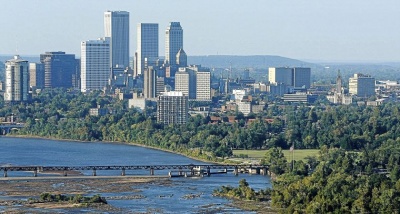 The best Tulsa RV Parks are not necessarily located inside the city. Many people pay high prices for lackluster campgrounds simply because of where they are. Expanding your search distance by just a few miles often reveals beautiful and affordable RV parks just outside of your target destination.
Attractions of T-Town
With the many sights and attractions of Oklahoma's second largest city, it is no wonder vacationers flock to the spot. Tulsa RV Parks fill up thanks to the many entertaining features of the town. However, camping outside of T-Town provides travelers with a happy medium of an exciting and busy day in the city, and a relaxing night in rural Sand Springs, only an eight-minute drive away.
Attractions
Some of the most popular features of the 918 include:
The Golden Driller
The Air and Space Museum
The Center of the Universe
The Gathering Place
No matter how old you or anyone you are traveling with is, T-Town keeps you busy. Safari Joe's Water Park is an excellent spot for families with children or couples who are kids at heart. For reflective visitors, the largest Praying Hands in the world at Oral Roberts University are a sight to see.
Shopping
Retail therapy is an important part of a vacation for many people. Staying in a camper guarantees there is enough room for a few more items inside your space. Woodland Hills Mall and Utica Square are two of the city's large shopping centers, featuring boutiques and department stores alike. Scattered throughout the city are local businesses offering unique clothing and other goods to locals and visitors who venture their way.
Food
Both the Blue Dome and Cherry Street Districts offer delicious restaurants for all sorts of tastes. For those who enjoy a hopping nightlife, there are many pubs and bars often featuring live music and specials to keep you entertained. Seafood, barbecue, and comfort are just a few styles of cooking you will find in this town.
Importance of Price
With all of the fantastic things the 918 has to offer, it is helpful to stay at one of the affordable Tulsa RV parks. Overspending on lodging decreases the amount of money you have to spend on activities. Also, price does not equal quality. Many Tulsa RV parks base their price on location when there are facilities even nicer a few miles away. Saving money on your site means having more to spend in other areas, meaning you get the best out of your trip.
Amenities of Tulsa RV Parks
Amenities are another vital factor to consider when selecting the best Tulsa RV parks. Some campgrounds provide lackluster services, while others go above and beyond with excessive luxuries. Finding a happy medium is essential for a comfortable stay. While amenities are often a personal preference, there are certain essentials to look for. These include:
Hot showers
Laundry
Storage units
Gathering areas
Full hookups
Pet-friendly spaces
Many mobile home sites offer additional comforts to better your experience. As long as these amenities are available, you are in for a quality stay.
Find More Adventures
Staying in Tulsa RV parks often limits the activities that visitors find. However, staying just a few minutes outside of the city opens up a new world of adventures for families and other travelers to take. Eight minutes outside of the Oil Capital of the World, Sand Springs is a small town worth taking a look at. Some of the best features of Sand Spring include Keystone State Park, Pleasant Valley Farms, and Keystone Ancient Forest.
Keystone State recreation area is a picturesque spot located on Keystone Lake. Along with boating and swimming, visitors can hike through the woods and watch for wildlife native to the area. This is a great way to connect with nature and take a break from a hectic life.
Keystone Ancient Forest is a world of its own. Hike with centuries-old trees on this preserve while searching for wildlife like deer, eagles, and butterflies. Due to conservation efforts, the forest is only open select Saturdays, making it a rare and even more worthwhile adventure.
Pleasant Valley Farms is a beautiful location for families, specifically during the fall and winter when it becomes a pumpkin patch, and after Thanksgiving, a Christmas tree lot. A fun and friendly environment for all ages, it is a great place to visit during your stay in local or Tulsa RV parks.
Riverview RV
At Riverview RV, our focus is on the comfort and safety of our guests. Located only a short distance away from Tulsa RV parks, we give guests a scenic and comfortable place to stay. Amenities include WiFi, walking trails, and full hookups. We pride ourselves on our hospitality and affordable rates. Also, we offer a discount to Tulsa Welding students. To learn more about our campground, visit us online or call us at (918) 245-8588.