We Have All The Conveniences You Want
Get all the conveniences and comforts you want with our advanced pedestals that are on every concrete pad. Each pedestal is equipped to meet your needs with full hookups.
Enjoy nature without feeling like you're stranded in the middle of nowhere. With Tulsa only 8 minutes away, you can enjoy big city fun any time you want. If you enjoy fishing, swimming and boating, Lake Keystone is only 10 minutes away! Check out our local attractions page for more information.
Variety of Shared Amenities
Get the most out of your stay with amenities everyone can enjoy.
Showers that stay hot
3 handicap-accessible bathrooms
Self-service laundry
Trash disposal
Dump station
Storage area
Propane for purchase (Please call the office to schedule for a refill)
Playground area for kids
Cookout area at gazebo featuring large propane grill
View of Arkansas River
Walking trails
Pet-friendly (no aggressive dogs or pit bulls)
"New" Dog Park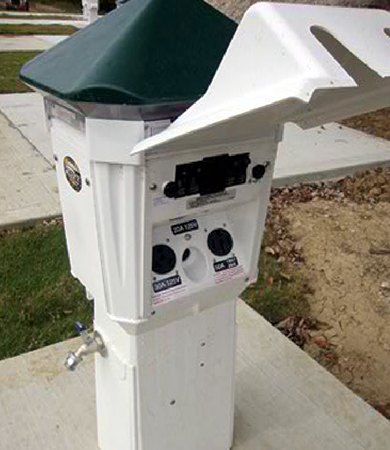 RV Parking at Affordable Rates
Each RV space has reinforced cement pads and includes full-hookups:
Top of the line pedestals with a night light!
30 & 50 amp connections
110 volt plug-in
Water spigot
Sewer inlet
Bring Your Technology With You
Our modern pedestals provide more than just your basic needs. Stay up to date on the latest news and sports or watch your favorite television show with our pedestal hookups that come with FREE cable.
Bring along a tablet or laptop for internet browsing or business needs with Wi-Fi access available at your pad. Find all these services and more at affordable rates. Reserve your space today!
Worship Service
We also have a Tulsa Police Department Chaplain, Mark Shell, who now leads a Sunday non-denominational worship service at 10:15 am. Mark sings a few songs and has a wonderful voice!